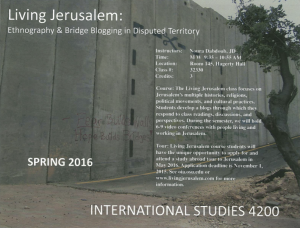 The Ohio State University's Office of International Affairs is hosting the next tour in May 2016. The deadline to apply is November 1st.
Students spend two weeks experiencing the richness and complexity of one of the world's most cherished and contested cities. Tour participants will be hosted and guided by Israeli, Palestinian, Muslim, Jewish and Christian scholars, artists, artisans, politicians, conflict resolution experts, diplomats and religious practitioners on a program designed to present multiple, and at times conflicting, perspectives and to raise both questions and answers to the challenges that keep Jerusalem at the center of imagination and inquiry.
Office of International Affairs 2016 tour information.
Previous Tours: Information and Itineraries